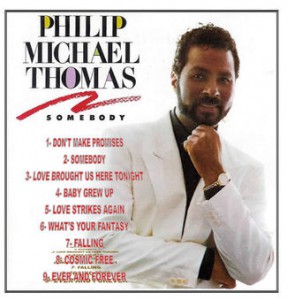 Philip Michael Thomas released his first album Living the book of my Life in 1986 and in 1987 he released his second album titled Somebody. In 1993 he co-wrote My, My, My Miam…I with Kathy Rahill and the song was chosen as the Miami's city anthem. In 1999. He also composed the music to the musical Sacha that he co-wrote with Sandi Morais. In 2001 Philip produced the music track for Sandi Morais' Golden Workout video and in 2006 he produced the music track for herTune-Up DVD workout.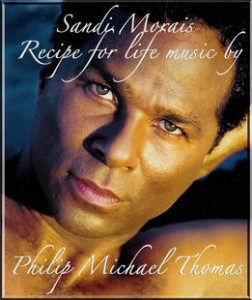 In 2008 he produced the music to cook by CD with five of his musical composition with sensual reggae music and lyrical poetry for Sandi's Recipe for Life vegetarian cookbook. Each of the five songs was chosen to help create the meditative mood for cooking.
Passion Fruit, All My Love, Fish and Chips Won't Do, Starry-eyed and Sweet African Woman. Philip also did the wonderful photography and forward for the Recipe for Life Vegetarian cook book.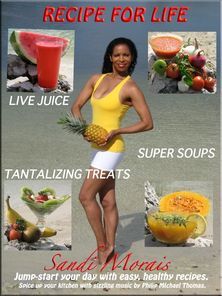 "Water, rock and sand are my photographic choices for collaborating with Sandi Morais on this fabulous work of art, Recipe for Life. Because of her Jamaican Island culture, it seemed most appropriate to capture the right flavor of reggae rhythm and cuisine. Mixing these elements with divine dishes tantalizing treats and nectar from the fruit and vegetables makes the perfect backdrop for this book of culinary delights and vegetarian cuisine.
Each artistic photograph makes you feel like a hungry lion  that wants to eat and drink right from the pages. You can taste and smell the recipes with your eyes.  I have enjoyed the creative process of being the photographer and having the privilege of eating Jerk Tofu.
Wow, it's sizzling hot! I love eating all these delicious dishes and drinking freshly squeezed juices.  I have been a vegetarian since 1967 and have enjoyed great chefs all over the world, so I can say with culinary delight that Sandi is definitely a magician in the kitchen.  Anyone who buys Recipe for Life and starts juicing and preparing every recipe will have a lifetime of treasure. Your soul will be filled with passion as your "Recipe for Life" begins right in your own kitchen."
Philip Michael Thomas